In prison - The man said to be Marc Dutroux. Could it be a body double?
How might a top member of the Dutroux child kidnapping gang have been able to be in Portugal when Madeleine McCann disappeared?
Dutroux and Lelievre were sent to jail in 2004.
Madeleine McCann disappeared in 2007.
The original Marc Dutroux
Could Marc Dutroux have a body double?
'Dutroux' arrested.
'Dutroux' in court.
Could the Doutroux in court be the real Dutroux?
Police photo of the suspect in the Madeleine McCann disappearance.
Could the man above be the kidnapper of Madeleine McCann?
Dutroux' accomplice Lelievre.
Many interesting events happened in and around Portugal in May 2007.
These events are NOT necessarily connected.
Nihoul.
Michel Nihoul

was a key figure in the Dutroux Affair.

According to a witness called

Regina Louf

, a girl called Veronique was tortured to death with a knife at an abuse party where Michel Nihoul was present.

On 3 May, 2007, Madeleine McCann was kidnapped in Portugal.

On 4 May 2007, Jean-Michel Nihoul was released from jail. (Cached ) On 31 May 2007, the Bilderberg meeting began near Istanbul.
12 May 2007 - meeting in Sintra, in Portugal. EPA/INACIO ROSA
Marc Dutroux's gang kidnapped children, and supplied them to the elite, reportedly with the help of the Belgian police.
In July 2013, Herman Van Rompuy, who has attended Bilderberg, visited the Mediterranean island of Malta.
Herman Van Rompuy in Valetta, Malta, 11 July 2013.
On 17 August 2013, a barrister (lawyer), at a party in Manchester in the UK, had a conversation with a man who told him he had met Madeleine McCann on a Mediterranean island in the summer of 2013.
The barrister contacted his local police force the next day then gave a formal statement.
The barrister was then arrested.
This was to shut him up?
Above are e-fits issued by the UK police in
October 2013.
In October 2013, the UK police issued two e-fits of a man they suspect may have been involved in the abduction of Madeleine McCann.
The images, based on statements from two (un-named) witnesses, differ.
"Detectives say the man - who may speak German and is white, aged 20 to 40 with short brown hair, medium height and build, and clean-shaven - is of 'vital importance' to the inquiry."
http://www.dailymail.
Madeleine McCann disappeared in 2007. She had been on holiday with her parents in Praia da Luz in Portugal.
Early in the inquiry the Portuguese police drew up e-fits of suspicious men seen in Praia da Luz on the night, based on descriptions by two British men, Derek Flack and Lance Purser.
These 2007 e-fits look different to the
October 2013 e-fits now issued by the Metropolitan Police.
2007 e-fits
based on sightings by British holidaymaker Derek Flack and British expat Lance Purser.
The Portuguese police were reluctant to issue the above e-fit.
This could suggest that the man in the e-fit works for the security services.
Revealed: Suspect images the cops never released
Michel Lelievre.
I am no murderer - Telegraph
Michel Lelievre was involved in a child kidnapping ring with links to the police.
2007 e-fits
based on sightings by British holidaymaker Derek Flack and British expat Lance Purser.
Derek Flack, from Ilford in England, was on holiday in Praia da Luz, at the same time as Madeleine.

Dereck Flack told the police:
"He observed an individual (about 1.70 in height, dark apparently
Portuguese in appearance
, with one day stubble, with short dark
hair, cut long at the back, which extended to his shirt collar
, wearing a possibly yellow T shirt) who was standing at the corner of the path watching (this being the reason he found him suspicious) in the direction of the apartment that Madeleine would later disappear from.
"He adds that near to where the individual was watching, on the other side of the road, was
a parked vehicle, van type,
white, with a person (he does not remember whether the person was inside or outside the vehicle). He cannot describe that person."
It looks as if the UK police are protecting the kidnappers?

Anonymous comments:

British police have reportedly arrested a man after he boasted at a party of having recently seen Madeleine on a Mediterranean island.

However, it appears he was arrested for reasons unrelated to the child's disappearance from her family's holiday apartment.



Britain's Sunday Mirror newspaper reported a week ago that a barrister had given a detailed statement to police after attending a party in Manchester where the man made the extraordinary claim.



The man boasted that he had been introduced to Madeleine on the island this summer. She was in the company of another adult.

The barrister said he took the claim seriously because of the level of detail.



The Sunday Mirror reported that the man making the claims was arrested during the week and computers were seized.



In a statement, Greater Manchester Police told the paper "a man was arrested … on suspicion of possession of drugs and conspiracy to distribute indecent images of children".
Does that make any sense to anyone? During the tete-a-tete at his house they espy drugs?
Why search his computer? And what exactly on his computer would have led them to believe he was in possession of drugs?
Anyway, the main thing is... whomever-it-was has been
silenced / discredited / threatened / disappeared, or all of the above?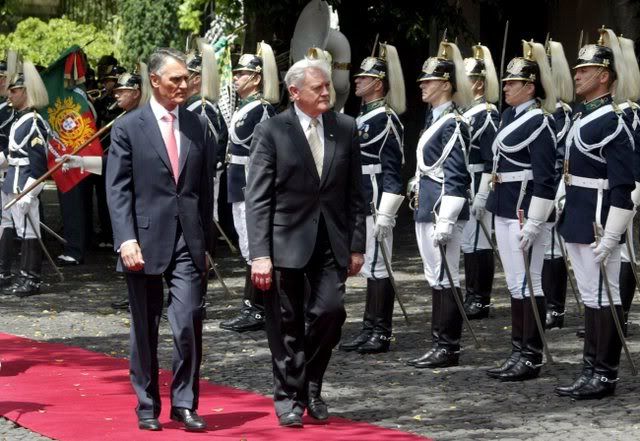 Lithuanian President Valdas Adamkus, (R) and his portuguese counterpart Cavaco Silva (l) in Portugal, 31 May 2007.
Secretary-General of the OECD Angel Gurría made an official visit to Portugal on 2 May 2007.
12 May 2007, meeting of top security officials in Venice. From left, Britain's Home Secretary John Reid, France's national police chief Michel Gaudin, Italy's Interior Minister Giuliano Amato, Poland's Interior Minister Janusz Kaczmarek, Germany's Interior Minister Wolfgang Schaeuble, U.S. Homeland Security Secretary Michael Chertoff, EU Justice and Home Affairs Commissioner Franco Frattini and Spain's deputy interior minister Antonio Camacho.