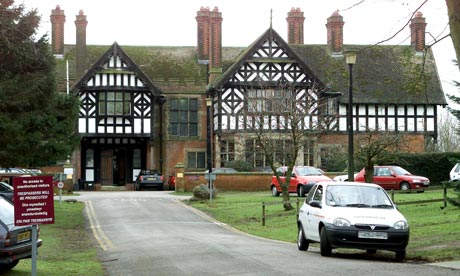 Bryn Estyn children's home in North Wales, used as a boy brothel for the elite.
"The Waterhouse tribunal, which investigated child abuse at care homes in North Wales, threatened TV journalists with legal action if they screened allegations that the abuse was more extensive than believed at the time, it has been revealed.
"HTV was planning to run a programme at the time of the Waterhouse Tribunal in 1997..."
The interview with a whistleblower was cancelled.
http://www.walesonline.co.uk/news/wales-news/2012/11/08/abuse-tribunal-threatened-legal-action-over-tv-investigation-91466-32188799/#ixzz2BcRqixp0
Gerard Elias QC, the leading counsel to the Waterhouse Tribunal which investigated child abuse in North Wales, 'is a freemason.'
After recording an interview with the whistleblower, the TV company asked Cheshire Police if they had any record of contact with the man.
The police responded that all records would have been destroyed...
The Waterhouse Tribunal effectively cleared North Wales Police of the charge that it had failed to investigate child abuse properly.
Newport West MP Paul Flynn said: "I believe there was a cover-up and that powerful people were responsible for ensuring that allegations were not aired in public as they should have been.
"I know journalists who were deeply affected after persuading people to speak about the appalling abuse they were subjected to yet being unable to get the justice they were seeking. They came forward for nothing, and some of them took their own lives."
Read More
http://www.walesonline.co.uk/news/wales-news/2012/11/08/abuse-tribunal-threatened-legal-action-over-tv-investigation-91466-32188799/#ixzz2BcT9VIDo
Steve Messham was identified as "Witness B" when he testified to the Waterhouse Inquiry (1997-2000) into the child sexual abuse in north Wales children's homes.
Waterhouse called the Tory politician abuser "X".
Allegations against senior Tory
Reportedly, the Waterhouse Inquiry was dominated by corrupt freemasons.
Waterhouse accepted that Messham had been repeatedly abused and psychologically damaged.
Savile had links to top people. Pall bearers from the Royal Marines carry the coffin of Sir Jimmy into Leeds Cathedral for his funeral service - Website for this image
However, Waterhouse decided that Messham's evidence on "Mr X" was inconclusive.
According to Waterhouse, "X has the surname of a well known and large non-Welsh family and he is said to be dead now."
Waterhouse reported: "According to B's statement to the
police
, X had several different motor cars and would wait for him at the bottom of Bryn Estyn Lane when he had a late pass. X would be accompanied by another paedophile now deceased and they would take B to various places.
"B alleged that he was buggered by X on four or five of these occasions, twice in the car in Moss Valley, once in the Crest Hotel at Wrexham and in the flat of Gary Cooke on the other occasions.
"Witness B was, however, very reserved about these allegations when he gave oral evidence, saying that, after a particular press article had appeared, his house and his car had been destroyed and he had received numerous threats: he was not taking any chances any more.
"He said, for example, that he knew the Christian name of X but that he was unwilling to disclose it. His recollection in the witness box was that he had seen X three times, including once at the Crest Hotel. X had a young man who was his driver and this man liked people to think he was a member of X's family. B was
unable
to say who had told him X's name."
Sir Jimmy Savile, friend of Israel and various prime ministers, was a frequent visitor to Bry Estyn.
"Detectives 'had a cast made of Savile's teeth' to check against bite-marks left on the bodies of the 'Yorkshire Ripper' victims...
Cast of DJ's teeth was made
.
Savile's teeth were examined in 1980, a year before Peter Sutcliffe was convicted of murdering 13 women and attempting to kill seven others....
Police knew that Savile used prostitutes, according to a friend of the dentist involved....Two of the Ripper's victims were found near Savile's home in Leeds...Sutcliffe named Savile in police interviews."
Waterhouse said a 2nd witness, "C", referred to X: "He said that John Allen introduced him to two men with whom he had oral sex... he had purported ... to identify one of them as a member of the X family by reference to a photocopied picture (one of four) produced to him by a journalist.
"His account had been that … he had been taken for a meal with John Allen and this man, who had paid for the meal with a gold
credit card
and who also had a Harrods account card. C had subsequently indicated, however, that he could not be 100% sure that his abuser was a member of the X family..."
Waterhouse concluded: "It is obvious on this evidence that we cannot be satisfied that any member of the X family was involved in paedophile activity".
However, the claims by both witnesses were repeated on the BBC's Newsnight.
Angus Stickler, the reporter who has investigated the story for more than 20 years, said: "Steve has always maintained the same story and has named the same person."
He said it was only Waterhouse's opinion that the two witnesses were describing different individuals who had molested them.
http://tna.europarchive.org/20040216040105/http://www.doh.gov.uk/lostincare/20102a.htm
On 1 December 1991, the Independent on Sunday referred to
former Police Superintendent Gordon Anglesea
and children's home Bryn Estyn in North Wales (
Chief Superintendent Gordon Anglesea.
):
"According to former residents at Bryn Estyn, Gordon Anglesea, a former senior North Wales police officer, was a regular visitor there.
"He recently retired suddenly without explanation.
"Another serving officer has been accused of assaulting a child at Ty'r Felin."
On 13 September 1992 the Observer newspaper wrote (
Chief Superintendent Gordon Anglesea.
):
"A former police chief has been named as a prime suspect in the North Wales child sexual abuse scandal, police sources in the region confirmed last night. . .
"The ex-police chief is due to be questioned this week as evidence emerges that staff in some children's homes `lent' children to convicted paedophiles for week-ends."
On 27 January 1993, Private Eye magazine (
Chief Superintendent Gordon Anglesea.
) had an article about the North Wales investigations criticising what it regarded as
the apparent reluctance of the North Wales Police to prosecute "no fewer than 12 serving and former colleagues" for sexual offences involving young boys who had been in care over a 20 year period.
According to the article:
"The reluctance has nothing to do with the involvement of a number of the local great and good as members of a paedophile ring, which regularly used homes, like the now-closed Bryn Estyn near Wrexham, to supply boys for sex to local celebrities.
Lord Kenyon was the Grand Master of the North Wales Province of Freemasonry in the 1980s. He was also a member of the North Wales Police Authority.
"In the late 1970s, Superintendent Anglesea of the North Wales Police was appointed to investigate an allegation of buggery made by X against the son of a then member of the North Wales police authority.
"The Superintendent found there was no case to answer.
"Coincidentally the police authority member and Superintendent Anglesea were prominent masons."
Anglesea brought proceedings for libel.
The defendants relied upon the evidence of three former Bryn Estyn residents.
Two of them alleged that Anglesea had both indecently assaulted and buggered them.
The third gave evidence of a joint indecent assault by Anglesea and house master PeterHowarth.
Two other witnesses, a housemother at Bryn Estyn, who was also a policeman's wife, and a probation officer who had been attached to the staff of the home for three months whilst on a training course gave evidence of having seen Anglesea at Bryn Estyn.
Gordon Anglesea won damages of £375,000.
"Recent revelations involve the corruption of evidence by senior council officials in North Wales with regard to information supplied to the Waterhouse inquiry into allegations of VIP child abuse in Clwyd.
"In the inquiry allegations made by a number of young people were discredited because they had made allegations against social workers who records showed had not been employed where they said during the time they were in care.
"In fact, a secretary in North Wales Council had been instructed to alter the official records of dates and where and when specific youngsters were in care."
THE PAEDOPHILE RING THAT ENCIRCLES BRITISH POLITICS

.. /
Possible elite British paedophile ring
It was not therefore the youngsters who were lying, but the officials.
Waterhouse
The Waterhouse Inquiry: The case of Gordon Anglesea
The following is from Waterhouse's report:
1. We have already recounted in some detail [
95
] the history of the libel action brought by Gordon Anglesea against four defendants in respect of the allegation or suggestion that he had been guilty of serious sexual misconduct at Bryn Estyn... The defendants failed to prove this to the jury's satisfaction and they found in Anglesea's favour by a majority of 10 to 2, whereupon his award of damages was agreed in the sum of £375,000.
2. The defendants in the action relied mainly upon the evidence of three witnesses, who we will identify only as A, B and C. Each of them alleged that he had been sexually abused by Anglesea at Bryn Estyn and gave evidence to that effect to the jury.
Witness A
3. Witness A, who appears from the records before the Tribunal to have been at Bryn Estyn from 13 May 1980 to 11 July 1981, was unable to read or write and attended a special school before he entered Bryn Estyn...
He said that he had been sexually assaulted by Anglesea twice, on both occasions when he was sleeping in Clwyd House over a holiday period. The first attack had been an indecent assault when Anglesea had entered A's bedroom wearing a raincoat and had touched A's private parts. On the second occasion, about two days later, Anglesea had buggered him forcibly in the same bedroom.
He was, however, effectively cross-examined about earlier statements that he had made and the many inconsistent details in them, including a wide disparity in his estimates of the number of times that he had seen Anglesea at Bryn Estyn and his accounts of the actual offences.
The Daily Mail appears to have removed parts of this story?
http://www.ccs-rochford.co.uk/spivey/?p=6757
/
http://www.ccs-rochford.co.uk/spivey/?p=3786
/
http://www.ccs-rochford.co.uk/spivey/?p=6678
Witness B
4. Witness B, who was born on Christmas Day 1962, told the jury of his most unhappy childhood before he was received into care. According to the Tribunal's records he was at Bersham Hall from 2 August to 27 September 1977 and then at Bryn Estyn from the latter date until 22 May 1979. Again, there was some confusion about the period when he was at Bryn Estyn because he was sure that he had been there two years and one month...
Witness B claimed that he had seen Anglesea at Bryn Estyn dozens of times, in uniform and out of uniform, and had seen Anglesea in the company of Howarth eight or nine times.
He alleged that oral and anal sex had occurred between Anglesea and himself in an outbuilding at Bryn Estyn, probably the cadet hut.
In the course of giving this evidence the witness collapsed ("passed out in the witness box" as the judge described it) and he gave further detail the next day of what had occurred in the outbuilding, including payment to him by Anglesea of 50 pence or a pound.
On another earlier occasion he had been made to perform oral sex for Anglesea in an outbuilding.
Witness B spoke also of four further occasions when oral and anal sex had been performed with Anglesea in the cadet hut or an outbuilding.
The main other assault that he remembered was in a lay-by or the like a couple of miles from Bryn Estyn, after Anglesea had stopped his car and told him to get in. On one other occasion he had been picked up by Anglesea outside Bryn Estyn and driven up a few lanes before oral sex had again taken place.
Like witness A, he was cross-examined about inconsistencies in his previous statements, including his earlier denial, to the police that he had been abused by Anglesea, and also about his insistence that he should be paid an agreed sum of £4,500 by Private Eye, in respect of an earlier libel on him, before he gave evidence, which he described as perfectly good tactics of the kind employed by lawyers to ensure payment.
How many of the barristers who took part in the Tribunal were or had been masons?
Witness C
5. Finally, witness C was recorded as having been at Bryn Estyn from 10 March 1981 to 18 October 1982 from the age of 14 years until just after his 16th birthday.
His recollection, however, was that he had been there for two and a half to three years from September 1979 (when his records indicated that he was in care in South Wales).
He gave evidence of being indecently assaulted by Howarth (the headmaster at Bryn Estyn), under the threat of an unruly order, but he denied that Howarth had buggered him.
He had caddied for Howarth on about half a dozen occasions and had been introduced to Anglesea when he had appeared on the golf course in ordinary clothes.
All three then went to Bryn Estyn, where the witnesses went to Howarth's flat to be paid £2 for caddying. Howarth and Anglesea then entered the flat and Howarth threatened him again with an unruly order. The two men pulled down his trousers and pants and one began playing with his private parts whilst the other was playing with his backside. That continued for about five minutes before the witness began crying and stormed out, pulling up his pants and trousers as he ran out to the dormitory.
6. Anglesea approached him subsequently on two occasions, once when he was either washing cars or sweeping the courtyard and once when he was listening to records by the staircase in the main building, inviting him to go up to Howarth's flat but on both occasions he had told Anglesea to "fuck off".
He had not spoken to Anglesea on any other occasion but had seen him on about four or five other occasions.
Unhappily, this witness had a history, after Bryn Estyn, of excessive drinking and drug dependence and he was cross-examined strenuously also about his failure to make any allegation against Anglesea before he was interviewed by a BBC representative prior to appearing on a BBC programme in January 1993. He denied, however, that his recollection had been affected by drink or drugs and said that the police had not put any question to him about Anglesea earlier: he had not mentioned Anglesea because he was scared of him, he was scared of power...
Witness A died on 2 February 1995, within two months of the jury's verdict, having been found hanging in his bed-sitting room...
Witness D
7. We heard oral evidence from two new witnesses who complained of sexual abuse by Anglesea.
Witness D (as we will identify him), was at Bryn Estyn from about September 1972 until March or April 1974.
This period was immediately before the date when the period of our review began and at the time and, throughout the period that the witness refers to, Gordon Anglesea was a police inspector at Colwyn Bay, having been promoted to that rank from Deeside on 10 April 1972.
Nevertheless, the witness alleges that he was sexually abused at Bryn Estyn by Anglesea, Howarth (who did not arrive there until 1 November 1973 by which time Arnold was already "Headmaster"), Norris (who arrived on 1 March 1974) and another member of the staff.
The allegations against Anglesea are that he buggered the witness twice in the kitchen of Howarth's flat, the witness having been sent there by Howarth on both occasions.
On a third occasion he went to Howarth's flat to watch television. However, when he went into the kitchen, Anglesea ran after him with the result that the witness went to a knife drawer and shook the knives. Anglesea called Howarth in and the incident ended with the witness being made to stand outside the office of the headmaster whom he named as Goldswain. He recognised Anglesea later when he saw him in inspector's uniform at a fete and learnt who he was, still in Goldswain's time. These complaints were first made in a statement to the Tribunal dated 4 December 1996.
Savile with his friend Mick Starkey, a police inspector
Witness E
8. The other new complainant against Anglesea, witness E, was born on 22 October 1959 and was resident at Bryn Estyn from 8 October 1973 to 14 February 1975, after which he attended at Bryn Estyn intermittently on a daily basis to attend classes (his IQ was then assessed at 71) until he was sentenced to borstal training on 22 November 1976...
9. This witness' first complaint about Anglesea was made on 20 March 1997, in his second statement to the Tribunal. In that statement he referred to seeing Anglesea for the first time at Bryn Estyn in the vicinity of the showers after tea on an occasion when Howarth entered the showers and told the witness to get out.
The next time that he saw Anglesea was in a police cell in Wrexham police station after he had been arrested.
Anglesea came to the cell and accused him of stealing matches. Anglesea told him to strip naked and then to turn round and bend down so that he could look into the witness's backside for matches, whereupon Anglesea touched his private parts and indecently assaulted him.
He saw Anglesea at Bryn Estyn on other occasions in the daytime in the company of Howarth. In his evidence to the Tribunal this witness gave evidence about Anglesea to like effect but said that he had seen Anglesea at Bryn Estyn only once, that is, in the vicinity of the showers; when he had seen him on other occasions it had been at Wrexham police station.
He said that he had learnt Anglesea's name whilst he was at Bryn Estyn but later said he had only learnt it from his social worker some time after he had made a statement to the police in September 1995 in Wakefield prison, where Howarth also was detained.
Sir Jimmy Savile in Belfast, site of the Kincora children's home, said to have been used by MI5.
Witness F
10. The only other fresh evidence about Anglesea directly relevant to the issue of sexual abuse is a statement to the Tribunal made by witness F in prison on 30 December 1996.
He was in Bryn Estyn for only three weeks in 1977 and then for about 12 months in 1978/1979. In his last statement he alleged that Howarth used to line up children in the hallway at Bryn Estyn and would pick "kids who were fragile and small" to carry his golf clubs for him. On one occasion Howarth lined up boys, including the witness, when he brought a Chief Superintendent, with a big birth mark on his face and neck, to the home. "The Chief Superintendent picked boys and they went away to Howarth's flat on the grounds or into a big car and away".
11. Anglesea was questioned about his connection with freemasonry because of an underlying suggestion that there had been a "cover up" in his case. He disclosed that he had become a full member of Berwyn Lodge in Wrexham, in 1982, after being a probationer in a lodge at Colwyn Bay from about 1976. He had then transferred to a new Wrexham lodge, Pegasus Lodge, in 1984 after a gap from April to September, because it offered an opportunity for swifter advance in freemasonry. He did not know of any police officer member of either lodge and he had joined Berwyn Lodge initially because a particular social friend was a member. He was aware now from records that one member of the staff at Bryn Estyn had become a member of Berwyn Lodge in April 1984..
Conclusions in respect of the allegations of sexual abuse made against Anglesea
12. Having considered all this evidence with very great care we are unable to find that the allegations of sexual abuse made against Gordon Anglesea have been proved to our satisfaction or that the trial jury in the libel action would have been likely to have reached a different conclusion if they had heard the fuller evidence that has been placed before us...
One obvious difficulty is that witness A has died so that we have not been able to make any realistic assessment of his credibility, although we have seen his statements and a transcript of his evidence at the libel trial, including his cross-examination...
Assessment of the evidence of witness B
...We are satisfied that B has suffered a long history of sexual abuse before, during and after his period in care and, to a significant extent until he left care, of physical abuse.
As a result he has been, and remains, severely damaged psychologically; he has been greatly affected also by the sudden death of his young wife in very sad circumstances on 1 April 1992, leaving B with a very young child to bring up. A major problem is that the damage is reflected in B's personality in such a way that he presents himself as an unreliable witness by the standards that an ordinary member of a jury is likely to apply. ..
Assessment of the evidence of witness C
...He became involved with drugs at the age of 15 years in 1986: he has been having treatment for his drug dependency since November 1987 but he still uses drugs. He is also an alcoholic now....
He alleges that his memory is nevertheless unaffected but his history and demeanour are such that no jury would be likely to accept his evidence on an important disputed matter without independent evidence to confirm it...
We have dealt very fully with the allegations against Gordon Anglesea because they are obviously a proper matter of great public concern and formed part of the background to our appointment. A part of that concern was the suggestion that there had been a `cover up' and that it was linked to membership of the freemasons. We must say, therefore, that we are fully satisfied that there has been no such cover up...
Anonymous left a new comment on the post "CHILD SEX - KICK DOWN A FEW DOORS":
...

Peter Rachman

, according to his girlfriend Mandy Rice-Davies, would supply children, usually teenage boys, to people like the Krays to pass on, occasionally he would abuse them himself, reputedly several bodies are around the Rising Sun pub in Epping Forest...

#

a: Which Rachman.

b: And when and where did Mandy say this. She wrote a couple of books, I've never found one, so has no one else I've been in contact with. Have you? Like to scan it and post it? Aang will sort and edit it, gladly.

Be aware: my research into that business is deep and far-ranging.

And with surprising results.

There were TWO Rachman's, which one are you referring to, the short, fat, ugly one, or the tall slim, boyishly-goodlooking one, the one Mandy lived with in Israel after being released from an Irish Jail for gun-running for the IDF, who designed and made the decorated tiles her bar and nightclub were decorated with.

The bar Israeli special-forces drank at in '67...

(I DO know what I'm talking about).

The real Rachman (Scarface, in Russian) studied art and design before the war, and worked part-time as a designer of decorated tiles, intending to buy the factory when the owner retired.

The fat one was an ex-para from East End who was born in the Polish Quarter and could pass as a Pole if no real ones were around. He was hired by the tall one to impersonate him. Thus all think Rachman was a small, fat, bald, greasy Pole who smelled of garlic, and drove around in a huge white Yank barge of a car and fondled little girls in his strip-clubs.

He's the one who died in '62. Not the real one.

Thus, incognito, the real Rachman could operate in the shadows. If he was seen he was assumed to be one of Rachman's bodyguards or drivers. I'm told he was so intelligent and clued about clandestine activities you wouldn't want to play chess with him.

The real Rachman lived until the early-mid 80's, still looking 20 years younger than he actually was, barely a grey hair on his head, a respected multi-millionaire property developer. He often used to crack a beer with the guys at Private Eye, who knew full-well who he was, they had Gold Cards to the strip-club in Soho Mandy ran as a hobby. She loved stripping and was the favourite artist, dancing only at weekends as she had a family to raise. If he and Mandy actually married sometime is a mystery, but they certainly were a couple from '61 on, despite the problems his life-style caused, and he is likely the father of their daughters despite it all.

There is no indication Rachman abused kids. He might have arranged for Peter Arne to give them the odd 'present', as Ronnie likely would demand a 'sweetener' before discussing business (via mercs I knew of several arms-dealers who were the same, they hated it but the guys needed the weapons, so...). Mandy, abused by her stepfather from early-age, would have clawed his eyes out if he was actually into that sort of stuff.

Mandy and Keeler said absolutely nothing during the scandal, or later, that has any anchor in reality. They were given a script to follow ...or die.

Arranging Ward to be discredited to the degree no one would react to his 'suicide' was dangerous enough, but 'doing' the girls too was definitely not an option.

There were eyes out there, watching... Who might not be amused.

Anyway, yet again, if you know anything could you share it with Aangirfan? Leave it here, he/they don't post everything he/they get. Any detail of interest, it might be banal, but it's all part of a jigsaw puzzle, that banal comment might be the key to a door. I'm interested in photos, you can glean quite a bit if you know what to look for.